Rick Steves Ireland
Spiral-Bound | December 13, 2022
Patrick O'Connor, Rick Steves
Rebinding by Spiralverse™
★★★★☆+ from 0 to 30 ratings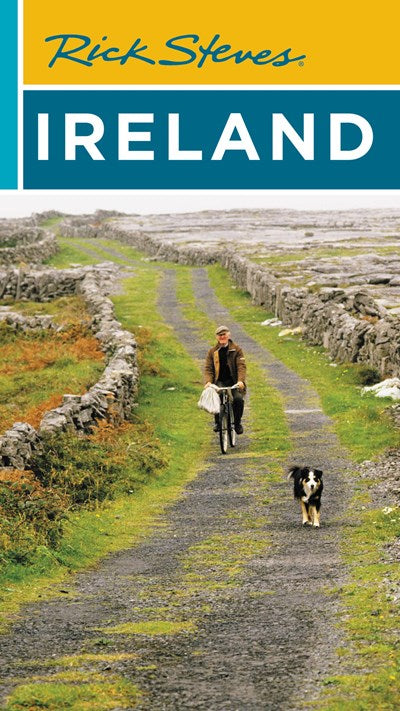 Now more than ever,
you can count on Rick Steves to tell you what you really need to know when traveling through Ireland. From rustic towns and emerald valleys to lively cities and moss-draped ruins, experience it all with Rick Steves! Inside Rick Steves Ireland you'll find:
Fully updated, comprehensive coverage for planning a multi-week trip through Ireland
Rick's strategic advice on how to get the most of your time and money, with rankings of his must-see favorites
Top sights and hidden gems, from the Rock of Cashel and the Ring of Kerry to distilleries making whiskey with hundred-year-old recipes
How to connect with local culture: Hoist a pint at the corner pub, enjoy traditional fiddle music, and jump into conversations buzzing with brogue
Beat the crowds, skip the lines, and avoid tourist traps with Rick's candid, humorous insight
The best places to eat, sleep, and relax with a Guinness
Self-guided walking tours of atmospheric neighborhoods and awe-inspiring sights
Trip-planning tools, like how to link destinations, build your itinerary, and get from place to place
Detailed maps, including a fold-out map for exploring on the go
Coverage of Dublin, Kilkenny, Waterford, County Wexford, Kinsale, Cobh, Kenmare, The Ring of Kerry, Dingle Peninsula, County Clare, the Burren, Galway, the Aran Islands, Connemara, County Mayo, Belfast, Portrush, the Antrim Coast, Derry, County Donegal, and much more
Covid-related travel info and resources for a smooth trip
Make the most of every day and every dollar with Rick Steves Ireland.
Planning a one- to two-week trip? Check out
Rick Steves Best of Ireland.
"The country's foremost expert in European travel for Americans."—Forbes
Since 1973, Rick Steves has spent about four months a year exploring Europe. His mission: to empower Americans to have European trips that are fun, affordable, and culturally broadening. Rick produces a best-selling guidebook series, a public television series, and a public radio show, and organizes small-group tours that take over 30,000 travelers to Europe annually. He does all of this with the help of more than 100 well-traveled staff members at Rick Steves' Europe in Edmonds, WA (near Seattle). When not on the road, Rick is active in his church and with advocacy groups focused on economic and social justice, drug policy reform, and ending hunger. To recharge, Rick plays piano, relaxes at his family cabin in the Cascade Mountains, and spends time with his son Andy, daughter Jackie, and his new grandson...baby Atlas. Find out more about Rick at www.ricksteves.com and on Facebook.

Connect with Rick:
facebook.com/RickSteves
twitter: @RickSteves
instagram: ricksteveseurope

Pat O'Connor, an Irish-American, first journeyed to Ireland in 1981, and was hooked by the history and passion of the feisty Irish culture. Frequent return visits led to his partnership with Rick, his work as a tour guide for Rick Steves' Europe, and co-authorship of this book. Pat, who loves all things Hibernian except black pudding, thrives on the adventures that occur as he slogs the bogs and drives the Irish back lanes (over 2,000 kilometers annually) in search of new discoveries.