Rick Steves Rome
Spiral-Bound | September 6, 2022
Gene Openshaw, Rick Steves
Rebinding by Spiralverse™
★★★★☆+ from 1,001 to 10,000 ratings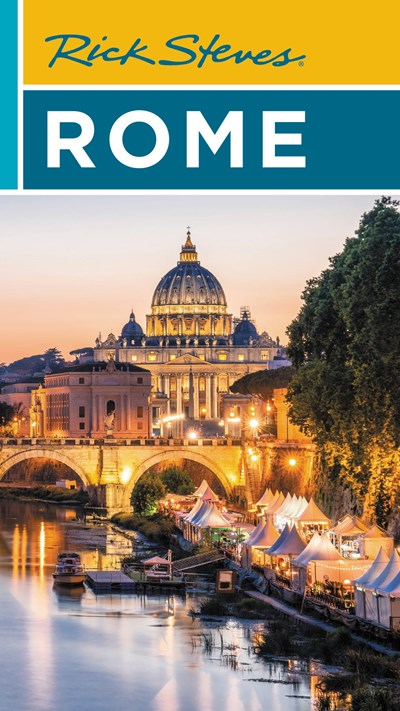 Now more than ever, you can count on Rick Steves to tell you what you really need to know when traveling in Rome. Explore ancient ruins and view Renaissance masterpieces in this truly modern Eternal City. Inside Rick Steves Rome you'll find:
Fully updated, comprehensive coverage for spending a week or more exploring Rome
Rick's strategic advice on how to get the most out of your time and money, with rankings of his must-see favorites
Top sights and hidden gems, from the Colosseum and the Sistine Chapel to corner trattorias, cozy wine bars, and the perfect scoop of gelato
How to connect with local culture: Indulge in the Italian happy hour tradition of aperitivo, savor a plate of cacio e pepe, or chat with fans about the latest soccer match
Beat the crowds, skip the lines, and avoid tourist traps with Rick's candid, humorous insight
The best places to eat, sleep, and experience la dolce far niente
Self-guided walking tours of lively neighborhoods and sights like the Roman Forum, St. Peter's Basilica, and the Vatican Museums
Detailed neighborhood maps and a fold-out city map for exploring on the go
Useful resources including a packing list, Italian phrase book, a historical overview, and recommended reading
Coverage of Central Rome, Vatican City, Trastevere, and more, plus day trips to Ostia Antica, Tivoli, Naples, and Pompeii
Covid-related travel info and resources for a smooth trip
Make the most of every day and every dollar with Rick Steves Rome.

Spending just a few days in the city? Try Rick Steves Pocket Rome.
"The country's foremost expert in European travel for Americans."—Forbes
Since 1973, Rick Steves has spent about four months a year exploring Europe. His mission: to empower Americans to have European trips that are fun, affordable, and culturally broadening. Rick produces a best-selling guidebook series, a public television series, and a public radio show, and organizes small-group tours that take over 30,000 travelers to Europe annually. He does all of this with the help of more than 100 well-traveled staff members at Rick Steves' Europe in Edmonds, WA (near Seattle). When not on the road, Rick is active in his church and with advocacy groups focused on economic and social justice, drug policy reform, and ending hunger. To recharge, Rick plays piano, relaxes at his family cabin in the Cascade Mountains, and spends time with his son Andy, daughter Jackie, and his new grandson...baby Atlas. Find out more about Rick at www.ricksteves.com and on Facebook.

Connect with Rick:
facebook.com/RickSteves
twitter: @RickSteves
instagram: ricksteveseurope

Gene Openshaw has co-authored a dozen Rick Steves books, specializing in writing walks and tours of Europe's cities, museums, and cultural sites. He also writes for Rick's public television series, produces audio tours on Europe, and is a regular guest on Rick's public radio show. Outside of the travel world, Gene has co-authored The Seattle Joke Book. As a composer, Gene has written a full-length opera called Matter, a violin sonata, and dozens of songs. He lives near Seattle, where he enjoys giving presentations on art and history, and roots for the Mariners in good times and bad.