The Happiness Trap (Second Edition): How to Stop Struggling and Start Living
Spiral-Bound | July 5, 2022
Russ Harris
Rebinding by Spiralverse™
★★★★☆+ from 10,001 to 50,000 ratings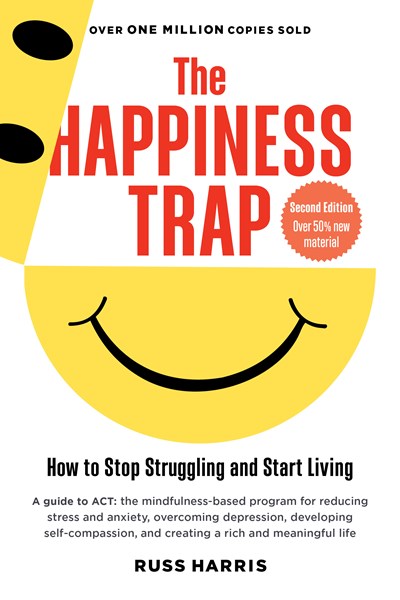 Free yourself from depression, anxiety, and insecurity, and instead build a rich and meaningful life with the updated and expanded edition of the world's best-selling guide to escaping the "happiness trap."


Over 1 million copies sold!

In The Happiness Trap, Dr. Russ Harris provides a means to escape the epidemic of stress, anxiety, and depression, unlocking the secrets to a truly fulfilling life.

Updated and expanded in its second edition, this empowering book presents the insights and techniques of Acceptance and Commitment Therapy (ACT), covering more topics and providing more practical tools than ever before. Learn how to clarify your values, develop self-compassion, and find true satisfaction with this bigger and better guide to:

• Reducing stress and worry
• Handling painful thoughts and feelings more effectively
• Breaking self-defeating habits
• Overcoming insecurity and self-doubt
• Building better relationships
• Improving performance and finding fulfilment at work

The Happiness Trap is for everyone. Whether you're lacking confidence, facing illness, coping with loss, working in a high-stress job, or suffering from anxiety or depression, this book will show you how to build authentic happiness, from the inside out.

"Carefully and creatively presents techniques that anyone can use to undermine struggle, avoidance, and loss of the moment. Harris systematically explores how we get into the 'happiness trap' and then shines a powerful beacon showing us another way forward."—Steven Hayes, PhD, author of Get Out of Your Mind and Into Your Life

"Eminently practical and readable. This book reveals that when calibrating one's life according to acceptance and valued action, happiness is a pleasant sideshow in the larger carnival of an engaged and purposeful existence."—Zindel Segal, PhD, author of The Mindful Way through Depression

"An exciting alternative to the usual approach of so many self-help books. Harris explains how we can work with ourselves as we are, rather than aggressively trying to alter ourselves. I'm impressed by the simple and effective methods of ACT."—David Richo, PhD, author of The Five Things We Cannot Change
DR. RUSS HARRIS is a world-renowned trainer of Acceptance and Commitment Therapy (ACT). As a physician he became increasingly interested in the psychological aspects of health and well-being, which led to a total career change. He now works in two different yet complementary roles as a therapist and a coach, and he is the author of numerous books. He lives in Melbourne, Australia.