The Anxious Achiever: Turn Your Biggest Fears into Your Leadership Superpower
Spiral-Bound | April 11, 2023
Morra Aarons-Mele
Rebinding by Spiralverse™
★★★★☆+ from 31 to 100 ratings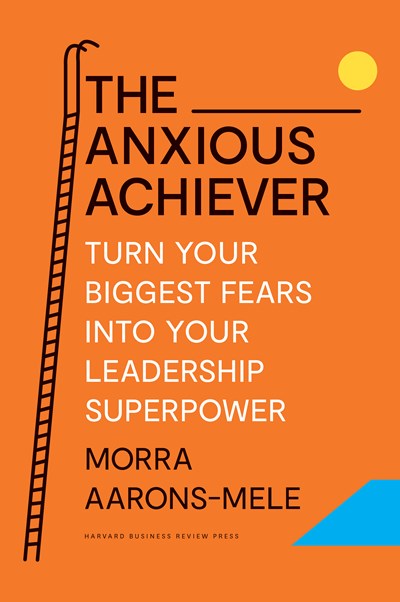 A timely and compelling guide to managing the anxiety that comes with succeeding and leading—from entrepreneur, mental health advocate, and top-rated podcaster Morra Aarons-Mele.
Anxiety disorders are the most common mental illnesses in the world. But in our workplaces, anxiety has been a hidden problem—there in plain sight but ignored. Until now.
The Anxious Achiever is a book with a mission: to normalize anxiety and leadership. As leadership expert and self-proclaimed anxious achiever Morra Aarons-Mele argues, anxiety is built into the very nature of leadership. It can—and should—be harnessed into a force for good.
Inspired by the popular podcast of the same name, The Anxious Achiever is filled with personal stories, research-based insights into mental health, and lots of practical advice. You'll learn how to:
Figure out your own anxiety profile so that you can recognize and avoid common thought traps and triggers
Confront bad habits and unhealthy coping mechanisms
Resist perfectionism, manage social anxiety, and set boundaries to prevent burnout
Deal with feedback, criticism, and impostor syndrome
Model—and communicate—healthy behavior as a leader
Whether you're experiencing anxiety for the first time or have been battling it for years, The Anxious Achiever will help you turn your stress and worries into a source of strength for yourself, your career, and the people you lead.
Included in HR Magazine's list of "terrific new workplace books."
Advance Praise for The Anxious Achiever:
"If you are a high achiever and you know—you just know—that you could achieve even more and be happier if you could wrestle your anxiety to the ground, this is your playbook. Aarons-Mele's book is well-researched, highly practical, searingly candid, and deeply empathic. Riveting." — Whitney Johnson, Wall Street Journal bestselling author of Smart Growth
"Aarons-Mele has written an astonishing book. She moves from stories to data to advice in a page-turning way. This is not a book for just anxious achievers—it's a book for any human being who wants to transform their mental health." — Andy Dunn, cofounder and former CEO, Bonobos; entrepreneur; and author, Burn Rate
"Readers will experience a deep and grateful sigh of recognition soon after diving into this wonderful book. Morra Aarons-Mele gently and intelligently guides readers through the different facets of anxiety and shows us how to tame negative self-talk and experience more joy and more success. Wise and practical, The Anxious Achiever is a game changer." — Amy C. Edmondson, Novartis Professor of Leadership and Management, Harvard Business School; author, The Fearless Organization
"Anxiety can be debilitating in our work and in our lives. In The Anxious Achiever, Aarons-Mele shares real-life examples and pragmatic ideas on how we can successfully manage anxiety and convert it into a superpower to help us build meaningful relationships with colleagues and friends and lead with empathy and purpose. This book will help leaders and teams thrive in our deeply uncertain world." — Vivek Bapat, Senior Vice President, Marketing, Brand Purpose, and Sustainability Solutions, SAP
"A helpful deep dive for leaders looking to understand anxiety and perfectionism. Full of practical advice." — Jenny Lawson, #1 New York Times bestselling author, Let's Pretend This Never Happened
"In The Anxious Achiever, Morra Aarons-Mele bravely uncovers a reality that we rarely talk about: success is often accompanied by great anxiety. It's a horrible feeling. But armed with the concepts in this well-researched, raw, and vulnerable work, you will learn how to take anxiety and channel it toward a powerful purpose." — Rita McGrath, professor, Columbia Business School; author, Seeing Around Corners
"The Anxious Achiever is a must-have for all emerging and experienced leaders who live with anxiety. Deeply relatable and with fresh perspective, this book provides practical strategies and real-world examples that help reframe how we think about and deal with anxiety in the workplace." — Muriel Wilkins, executive coach; coauthor, Own the Room; and host, Coaching Real Leaders podcast
Morra Aarons-Mele is the host of The Anxious Achiever, a top leadership podcast. The show helps people rethink the relationship between their mental health and their leadership. In 2010 Aarons-Mele founded the award-winning digital consulting firm, Women Online. She helped Hillary Clinton log on for her first internet chat and has launched digital campaigns for President Obama, Malala Yousafzai, the United Nations, the CDC, and many other leading figures and organizations.
Connect with Morra Aarons-Mele at: theanxiousachiever.com