Now You Are One: Little Bird Greetings
Spiral-Bound |
Minnie Birdsong, Jenny Wren (Illustrated by), Cottage Door Press (Edited by)
Rebinding by Spiralverse™
★★★★☆+ from 31 to 100 ratings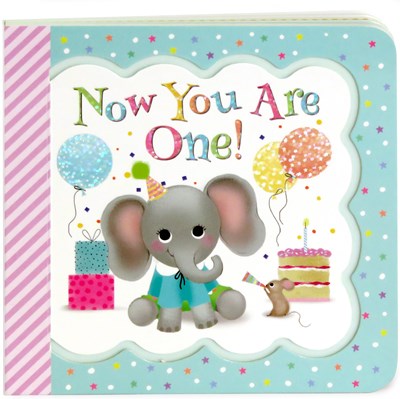 Celebrate the special day with this personalized birthday book designed for one-year-olds! Enjoy cake, presents, and a fun gift with this lively rhyming birthday book for baby that captures all the giggles and fun a birthday party brings. This unique keepsake sturdy birthday board book includes a special cover flap designed for a personalized inscription as well as an envelope and seal for gift giving. Little ones will love this special greeting card alternative that can be read over and over again! First birthdays are special, so celebrate with the perfect birthday treat. The adorable illustrations and a read-aloud story will be a favorite to share with the new little birthday boy or girl!
Trade your greeting card for a Happy Birthday keepsake book that can be treasured for years! A must for a one-year-old first birthday celebration!
Kids' birthday book includes an envelope and seal - place in your gift bag and it can be opened like a regular birthday card.
Write a personalized note under the cover flap to your favorite little one about their special day.
Sturdy board pages for developing hands, perfect for a baby's first birthday gift book to add to a child's collection.
The Little Bird Greeting Keepsake Collection includes an array of books perfect for children's birthdays, baby showers, new babies, and holidays. From first birthdays, gender reveal parties, first holidays, and more, these lovely stories are a great gift for any occasion.
Minnie Birdsong is a pen name for the creative team at Cottage Door Press. We use a name like this when we work together on a story. We choose a name that stands for "red bird," which is our cheerful little mascot.