The Art of Mixology: Classic Cocktails and Curious Concoctions
Spiral-Bound |
Parragon Books (Edited by)
Rebinding by Spiralverse™
★★★★☆+ from 101 to 500 ratings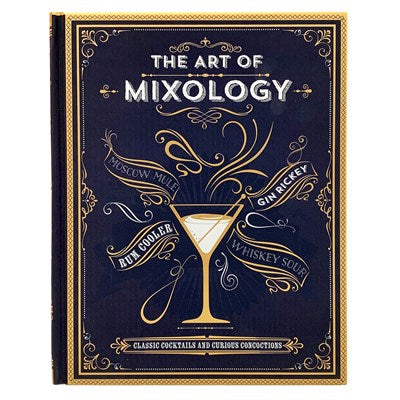 Become your own bartender and create new, delicious concoctions at home with this collection of artisan cocktail recipes. In addition to craft drinks and techniques, this book also covers traditional mixology methods and features classic cocktails that never go out of styles, such as the Mai Tai, Marilyn Monroe, and Zombie. Are you craving a cocktail but not the alcohol? Try your hand at making mock-tails with recipes for the Ginger Fizz, Long Boat, Sober Sunday, or Cranberry Energizer. Let the cocktail hour commence with more than 200 recipes to choose from!
Collect all of the titles in our Mixology series - Bourbon & Whiskey, Gin, Rum, and now including Word Search Intoxicating Puzzles and holiday essential Making Spirits Bright.

CLASSIC AND CONTEMPORARY RECIPES: The best of traditional and contemporary mixology for all occasions. For a romantic dinner, special celebration, holidays, entertaining and more, there is a perfect, well-loved drink for every get-together
ACCOMMODATES ALL LEVELS: This ultimate cocktail recipe book is made for beginners, experts, and everyone in between, featuring non-alcoholic drink recipes or mix drinks with alcohol favorites including whiskey, vodka, gin, rum, brandy, and bubbles
ANY OCCASION: Whether it's creating a cocktail hour martini or fixing a Brandy Alexander nightcap, this is the stylish guide to exclusive drinking that will capture the beautiful cocktail artistry for all drink enthusiasts
EASY AND SIMPLE: Includes a beginner bartender's guide to cocktails and a stunning anthology of cocktail recipes for novice to experienced bartenders to make at home as well as beautiful photographs
MAKES A GREAT GIFT: Makes a great gift for a birthday, holiday, Valentine's Day, Mother's Day, Father's Day, and more. This is a great bartending book gift for a new home or to complete any renovated home bar
The Parragon name means quality, entertainment, and value and has been at the forefront of publishing for nearly 40 years. Going forward as an imprint of Cottage Door Press, the Parragon brand includes books that are interesting, entertaining, and affordable. The Parragon tradition continues....