Worry Less, Pray More: A Woman's Devotional Guide to Anxiety-Free Living
Spiral-Bound |
Donna K. Maltese
Rebinding by Spiralverse™
★★★★☆+ from 101 to 500 ratings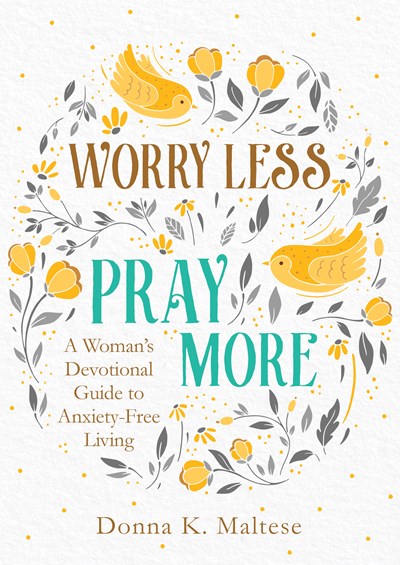 Worry-Free Devotional Guide for Women Offers You Calm for an Anxiety-Filled Soul

This purposeful devotional guide features 180 readings and prayers designed to help alleviate your worries as you learn to live in the peace of the Almighty God, who offers calm for your anxiety-filled soul. Inspired by this promise from God's Word: "Don't fret or worry. Instead of worrying, pray. Let petitions and praises shape your worries into prayers, letting God know your concerns. Before you know it, a sense of God's wholeness, everything coming together for good, will come and settle you down. It's wonderful what happens when Christ displaces worry at the center of your life" (Philippians 4:6-7 MSG), Worry Less, Pray More reinforces the truth that with God, you can live anxiety-free every single day—whether you worry about your work, relationships, bills, the turmoil of the world, or something more.
Donna K. Maltese is a freelance writer, editor, and writing coach. Mother of two children, grandmother of one very active grandchild, and caretaker of two rescue animals, she resides in Bucks County, Pennsylvania, with her husband. When not reading or writing, Donna, an avid knitter and crocheter, can be found frequently wrestling yarn from her cat. You can check out her website at donnakmaltese.com.