Dog's First Baby: A Board Book
Spiral-Bound | October 5, 2021
Natalie Nelson
Rebinding by Spiralverse™
★★★★☆+ from 101 to 500 ratings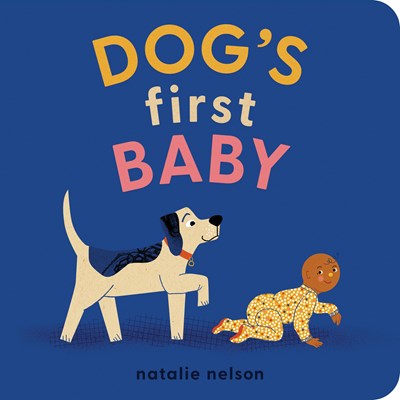 I am a dog.
Are you a dog?

Welcoming a new baby to the family isn't always easy. When his humans bring home someone new, Dog is determined to sniff out the truth. Is this arrival another dog, or something else? As Dog investigates, he might just find a new friend in this loud, silly creature.

With Dog's First Baby, Natalie Nelson captures the wonder and humor of a new baby through a dog's eyes. Sure to delight kids and dog parents alike, this playful and heartwarming board book promises to be a repeat read-aloud.



Kids Indie Next List Pick
A 2022 Georgia Author of the Year Award nominee
Bookstagang's Best Board Book of 2021

"A playful and funny romp that will appeal to dog-owning tots."—Kirkus Reviews

"Darling, bold collages and minimal text present the arrival of a new baby from the family dog's perspective, with enough wry humor to make even adult readers smile."—School Library Journal

"Children will delight at seeing the baby from the point of view of a dog, especially those who live with four-legged friends. Those who don't have puppies around will be sure to beg for one after reading this board book treasure."—New York Journal of Books

"Original, playful and heartwarming."—Midwest Book Review

"The perfect books for families with pets and a new baby."—Youth Services Book Reviews

"A fun addition to storytime and board book collections, this would be especially fitting for a storytime about - or with - dogs, with a few points for emphasizing how to safely and kindly interact with our four-pawed friends."—Jean Little Library
Natalie Nelson is an illustrator, picture book maker, and collage artist. Trained in graphic design and illustration, she works in a mixed media hybrid of cut paper, collage, and digital art, with an emphasis on intriguing shapes, textures, and layers. Her previous titles include Dog's First Baby (Quirk 2021) and Holiday!. Her art is in demand from national clients including The New York Times, The Washington Post, Time Magazine, Curbed, Eater, The Bitter Southerner, Teach for America, Vox Media, Mailchimp, and more. She lives in Atlanta, Georgia with her husband, their dog, Coach, and their young son.