Teenage Mutant Ninja Turtles: The Last Ronin
Spiral-Bound | July 5, 2022
Kevin Eastman, Peter Laird, Tom Waltz, Robert Rodriguez (Introduction by)
Rebinding by Spiralverse™
★★★★☆+ from 1,001 to 10,000 ratings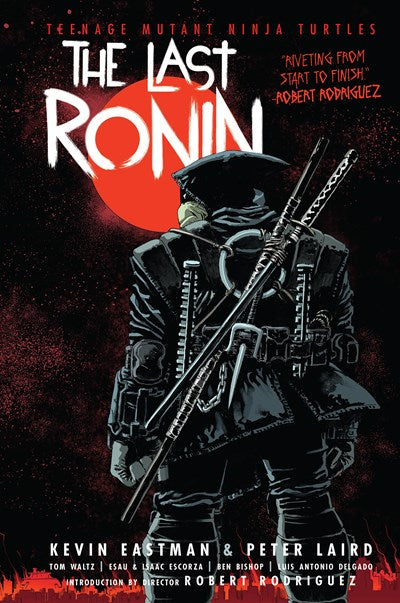 A New York Times Bestseller! Who is the Last Ronin? In a future, battle-ravaged New York City, a lone surviving Turtle embarks on a seemingly hopeless mission seeking justice for the family he lost. From legendary TMNT co-creators Kevin Eastman and Peter Laird, get ready for the final story of the Teenage Mutant Ninja Turtles three decades in the making!

What terrible events destroyed his family and left New York a crumbling, post-apocalyptic nightmare? All will be revealed in this climactic Turtle tale that sees longtime friends becoming enemies and new allies emerging in the most unexpected places. Can the surviving Turtle triumph?

Eastman and Laird are joined by writer Tom Waltz, who penned the first 100 issues of IDW's ongoing TMNT series, and artists Esau & Isaac Escorza (Heavy Metal) and Ben Bishop (The Far Side of the Moon) with an Introduction by filmmaker Robert Rodriguez!

Collects the complete five-issue miniseries in a new graphic novel, an adventure as fulfilling for longtime Turtles fans as it is accessible for readers just discovering the heroes in a half shell.
Selected for the TLA Maverick Graphic Novel 2023 Reading List!

"Teenage Mutant Ninja Turtles: The Last Ronin is a love letter to the roots of the franchise. Whether you've been a shell head since day one or a newer fan following IDW's ongoing series, The Last Ronin hardcover deserves a spot in your comic collection." —CBR

"...a satisfying tale and a worthy companion piece to the original comics." —Publishers Weekly

"One of the most anticipated comics of the year, and the colorful yet dark dystopian story definitely delivers." —Den of Geek, voted by writers and readers as one of the Best Comics of 2021

"Point blank reaction: I enjoyed the hell out of this book. The Last Ronin is an absolute blast." —Graphic Policy

"For TMNT fans this has been a long time coming to see Laird and Eastman back together again. They have surrounded themselves with an all-star team that shares their passion for TMNT storytelling and the end product is nothing short of amazing. Frank Miller has The Dark Knight Returns and now Laird, Eastman, and Waltz have The Last Ronin." —Comic Watch

"What's great about this story is that it truly stands alone. In truth, if you've watched the original live-action TMNT movie, you have all you need to truly appreciate this comic book. And if you've been reading the comic books, watching the television shows and films, and played the games? This story will take you on an emotional rollercoaster." —Newsarama

"It's TMNT by way of The Dark Knight Returns, down to the gritty internal monologues and vaguely cyberpunk aesthetic." —ComicBook.com

"A must-read for both new and old TMNT fans." —Monkeys Fighting Robots

"This book is awesome, if you're a fan of the TMNT you probably already have this on your pull list, and you won't regret it! If you're still not aboard the cowabunga train, I still say pick it up, this story has such an emotional core and deserves to be read." —Comics: The Gathering

"This just might be the best Ninja Turtles comic ever created." —Comics Bulletin

"Terrific visuals, fluid panels, and a cast of interesting characters, highlighted by a terrifying background. It does not waste any time. Dives in on the action." —Comic Crusaders

"Any TMNT fan can pick this up and enjoy." —Word Of The Nerd

"Despite the fact that this is solidly set in the future of the current run of IDW comics, you dont need to have read a single issue to understand The Last Ronin. Frankly, any fan of the recent Old Person ___ comics need to check out this comic, as does any Turtle fan." —You Don't Read Comics

"A dream come true for Ninja Turtles fans. It feels like the culmination of the original run of the series, and then some. Absolutely a must-read for anyone who loves these characters and their world." —AIPT

"This is what a sweeping epic is and should be plain and simple. It's beautifully written with striking characterisation and bloody stunning interiors and it is without a doubt one of the most poignant and profound reads on stands right now." —Reading With A Flight Ring

"One of the Best Graphic Novels of 2022" —Barnes & Noble
Kevin Eastman - Born in 1962 in Portland, Maine, Kevin began drawing as soon as he was able to hold a crayon. His discovery of comic books gave meaning to his crazed doodling. When Kevin discovered and studied the work of Jack Kirby, Russ Heath, Richard Corben, Vaughn Bode and John Severin, he began to hone his craft. His first published work appeared in 1980, a year or so before he met Peter Laird. In May 1984, he and Laird published Teenage Mutant Ninja Turtles #1, creating the hit heroes in a half-shell.

Peter Laird is an American comic book writer and artist. He is best known for co-creating the Teenage Mutant Ninja Turtles with writer and artist Kevin Eastman.

Tom Waltz is a former active duty U.S. Marine, Desert Storm vet, and former California National Guard Military Policeman. He is an editor for IDW Publishing and the writer of critically-acclaimed comics and graphic novels, including Teenage Mutant Ninja Turtles; The Last Fall; Finding Peace (with Nathan St John); the Silent Hill books Sinner's Reward, Past Life, and Anne's Story; and others. He has also written for video games, including Silent Hill: Downpour, Ghostbusters: Sanctum of Slime, and the TMNT games Brothers Unite and Mutants in Manhattan. He lives in San Diego with his wife and two children.