The Sandman Book Two
Spiral-Bound | April 19, 2022
Neil Gaiman, Kelly Jones (Illustrated by), Mike Dringenberg (Illustrated by)
Rebinding by Spiralverse™
★★★★☆+ from 1,001 to 10,000 ratings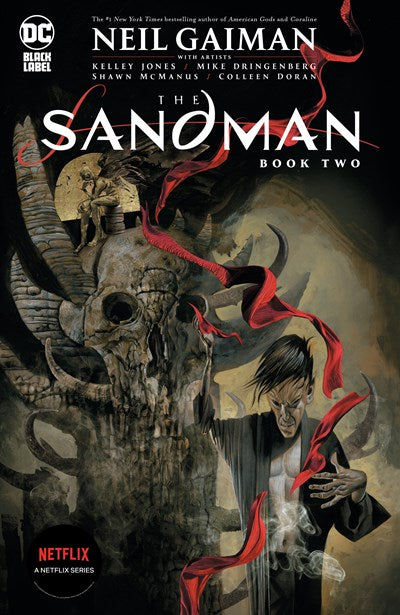 From the award-winning writer of American Gods and Coraline, The Sandman is one of the most popular and critically acclaimed graphic novels of all time. Neil Gaimain's award-winning masterpiece set the standard for mature, lyrical fantasy in the modern comics era.

Illustrated by an exemplary selection of the medium's most gifted artists, the series is a rich blend of modern and ancient mythology in which contemporary fiction, historical drama, and legend are seamlessly interwoven.

In this second volume of the unforgettable epic—drawn by Kelley Jones, Mike Dringenberg, Shawn McManus, and Collen Doran, with guest art by P. Craig Russell, Bryan Talbot, Matt Wagner, and more—Morpheus of the Endless must journey into Hell to rectify a ten-thousand-year-old injustice. But that means traveling through the realm of Lucifer, who after their last encounter swore he would destroy the King of Dreams...

Collects stories from The Sandman #21-37, The Sandman Special #1, and Vertigo: Winter's Edge #1-3, including the classic story arcs "Season of Mists" and "A Game of You," among others.
Creator of The Sandman and one of comics' most accomplished writers, Neil Gaiman is also the New York Times bestselling author of the novels Anansi Boys, American Gods, Stardust, and Coraline, as well as the short story collections M Is for Magic and Smoke and Mirrors and the multimedia creation Neverwhere. He also co-wrote the Jim Henson Productions film MirrorMask with longtime collaborator Dave McKean, illustrator of the Gaiman-written graphic novels Mr. Punch, Violent Cases, and Black Orchid. Among his many awards are the Hugo, the Nebula, the Eisner, the Harvey, the Bram Stoker, and the World Fantasy Award. Originally from England, Gaiman now lives in the United States.