Everyone Poops
Spiral-Bound | September 1, 2020
Taro Gomi
Rebinding by Spiralverse™
★★★★☆+ from 1,001 to 10,000 ratings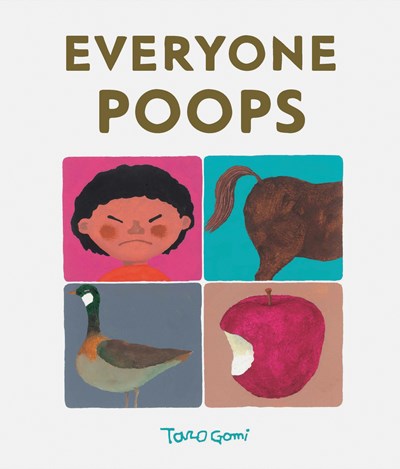 The beloved, bestselling potty-training classic by internationally bestselling author Taro Gomi!
An elephant makes a big poop. A mouse makes a tiny poop. Everyone eats, so of course: everyone poops!
Taro Gomi's classic, go-to picture book for straight talk on all things "number 2" is back in a lovely hardcover edition, as funny, reassuring, and encouraging as ever. The concept of going to the bathroom is made concrete through this illustrated narrative that is both verbally and visually engaging.
Everyone Poops
is just right for potty-training, gift-giving, and everyday reading with smart, curious readers.
FUN POTTY BOOK FOR TODDLERS: Both a matter-of-fact, educational guide and a hilarious romp through poop territory that will appeal to young listeners over and over again.
LAUGH & LEARN: Turn the pages to delight in artwork that is filled with timeless OMG moments for both kids and adults.
CLASSIC CHILDREN'S BOOK: Since its debut in 1977, this clever and colorful picture book has remained a favorite for baby shower and birthday gift giving, as well as the must-have book when potty training time arrives, delighting generations of families.
Perfect for:
Children ages 6 months to 3 years old
Parents, grandparents, and caregivers who are potty-training a toddler
New baby gift, birthday present, and milestone moment celebration
Shelving alongside books like P is for Potty! (Sesame Street), Dr. Seuss's The Foot Book, Sandra Boynton's Belly Button Book, and Everyone Feels Anxious Sometimes
Taro Gomi is a well-known author and illustrator who has created more than 400 books and products for readers of all ages, including Bus Stops, My Friends, Spring is Here, Little Truck, Little Plane, and Taro Gomi's Funny Fish: Go Fish Card Game, as well as Junior Library selections I Know Numbers! and The Crocodile and the Dentist. He lives in Tokyo, Japan.