Nonviolent Communication: A Language of Life : Life-Changing Tools for Healthy Relationships (3rd Edition)
Spiral-Bound |
Marshall B. Rosenberg, Deepak Chopra (Foreword by)
Rebinding by Spiralverse™
★★★★☆+ from 10,001 to 50,000 ratings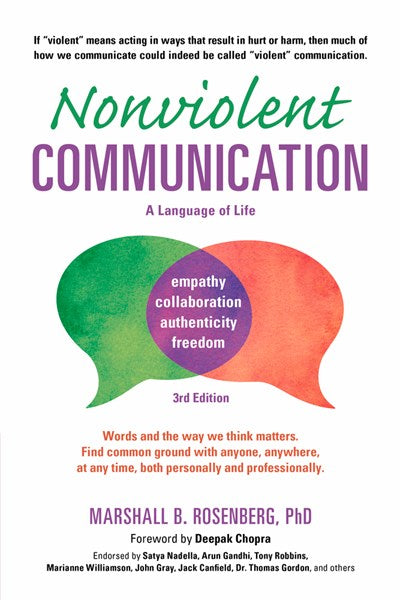 5,000,000 COPIES SOLD WORLDWIDE • TRANSLATED IN MORE THAN 35 LANGUAGES

What is Violent Communication?
If "violent" means acting in ways that result in hurt or harm, then much
of how we communicate
—judging others, bullying, having racial bias, blaming, finger pointing, discriminating, speaking without listening, criticizing others or ourselves, name-calling, reacting when angry, using political rhetoric, being defensive or judging who's "good/bad" or what's "right/wrong" with people—
could indeed be called "violent communication."
What is Nonviolent Communication?
Nonviolent Communication is the integration of four things:
• Consciousness:
a set of principles that support living a life of compassion, collaboration, courage, and authenticity
• Language:
understanding how words contribute to connection or distance
• Communication:
knowing how to ask for what we want, how to hear others even in disagreement, and how to move toward solutions that work for all
• Means of influence:
sharing "power with others" rather than using "power over others"
Nonviolent Communication serves our desire to do three things:
• Increase our ability to live with choice, meaning, and connection
• Connect empathically with self and others to have more satisfying
relationships
• Sharing of resources so everyone is able to benefit
"Nonviolent Communication connects soul to soul, creating a lot of healing. It is the missing element in what we do." —Deepak Chopra, author of How To Know God
Marshall B. Rosenberg, PhD (1934–2015) founded and was for many years the Director of Educational Services for the Center for Nonviolent Communication, an international peacemaking organization. During his life he authored fifteen books, including the bestselling Nonviolent Communication: A Language of Life (PuddleDancer Press), which has sold more than one million copies worldwide and has been translated into more than 30 languages, with more translations in the works.

Dr. Rosenberg has received a number of awards for his Nonviolent Communication work including:
2014: Champion of Forgiveness Award from the Worldwide Forgiveness Alliance
2006: Bridge of Peace Nonviolence Award from the Global Village Foundation
2005: Light of God Expressing in Society Award from the Association of Unity Churches
2004: Religious Science International Golden Works Award
2004: International Peace Prayer Day Man of Peace Award by the Healthy, Happy Holy (3HO) Organization
2002: Princess Anne of England and Chief of Police Restorative Justice Appreciation Award
2000: International Listening Association Listener of the Year Award

Dr. Rosenberg first used the NVC process in federally funded school integration projects to provide mediation and communication skills training during the 1960s. The Center for Nonviolent Communication, which he founded in 1984, now has hundreds of certified NVC trainers and supporters teaching NVC in more than sixty countries around the globe. A sought-after presenter, peacemaker and visionary leader, Dr. Rosenberg led NVC workshops and international intensive trainings for tens of thousands of people in over 60 countries across the world and provided training and initiated peace programs in many war-torn areas including Nigeria, Sierra Leone, and the Middle East.

He worked tirelessly with educators, managers, health care providers, lawyers, military officers, prisoners, police and prison officials, government officials, and individual families. With guitar and puppets in hand and a spiritual energy that filled a room, Marshall showed us how to create a more peaceful and satisfying world.