By a Thread
Spiral-Bound | April 23, 2020
Lucy Score
Rebinding by Spiralverse™
★★★★☆+ from 50,001 + ratings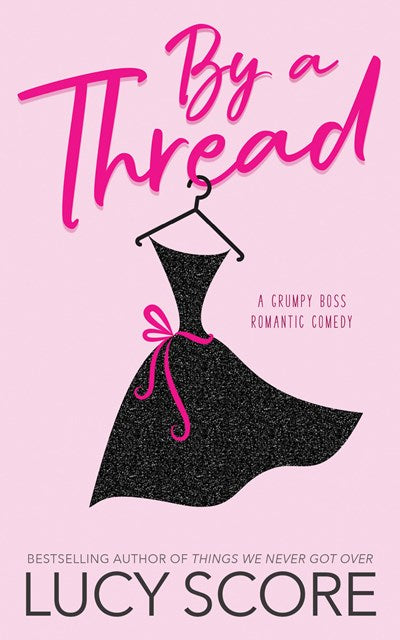 New York Times and USA Today bestselling author Lucy Score delights readers with a steamy, swoony workplace romantic comedy with a grumpy boss hero determined to save the day and a plucky heroine who is starting to wonder if there might actually be a beating heart just beneath her boss's sexy vests.
Dominic was staring at me like he couldn't decide whether he loathed me or wanted to French kiss me.
Dominic
I got her fired. Okay, so I'd had a bad day and took it out on a bystander in a pizza shop. But there's nothing demure about Ally Morales. She proves that her first day of her new job…which just happens to be in my office….And I can't fire her, because it's my mother the CEO who hired her…technically, Ally doesn't work for me, and she makes it clear she doesn't have to listen to me either.
So maybe her colorful, annoying, inexplicably alluring personality brightens up the magazine's offices that have felt like a prison for the past year. Maybe I like that she argues with me in front of the editorial staff. And maybe my after-hours fantasies are haunted by those brown eyes and that sharp tongue.
But that doesn't mean that I'm going to be the next Russo man to take advantage of his position. I might be a second-generation asshole, but I am not my father.
She's working herself to death at half a dozen dead-end jobs for some secret reason she doesn't feel like sharing with me. And I'm going to fix it all. Don't accuse me of caring. She's nothing more than a puzzle to be solved. If I can get her to quit working here, I can finally peel away all those layers. Then I can go back to salvaging the family name and forget all about the dancing, beer-slinging brunette.
Ally
Ha! Hold my beer, Grumpy Grump Face.
LUCY SCORE is a New York Times, USA Today and Wall Street Journal bestselling author. She grew up in a literary family who insisted that the dinner table was for reading and earned a degree in journalism. She writes full-time from the Pennsylvania home she and Mr. Lucy share with their obnoxious cat, Cleo. When not spending hours crafting heartbreaker heroes and kick-ass heroines, Lucy can be found on the couch, in the kitchen, or at the gym. She hopes to someday write from a sailboat, oceanfront condo, or tropical island with reliable Wi-Fi.