Buy, Rehab, Rent, Refinance, Repeat: The BRRRR Rental Property Investment Strategy Made Simple
Spiral-Bound | May 16, 2019
David M Greene
Rebinding by Spiralverse™
★★★★☆+ from 1,001 to 10,000 ratings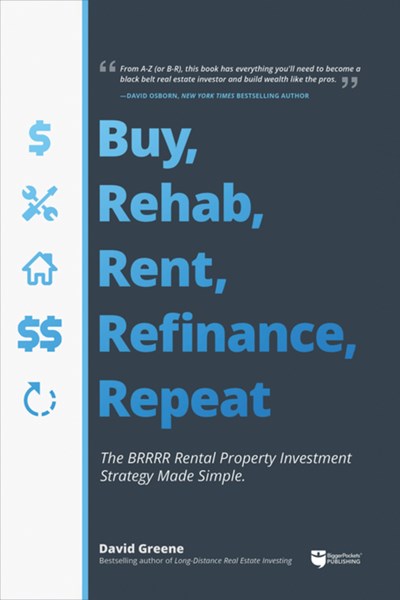 Rather than slowly saving money and investing over the course of decades, you could use the BRRRR method build a real estate empire in just years. Discover the incredible strategy that's sweeping the nation!
Invest in real estate, flip houses, buy rental properties, and never run out of money—using the hottest strategy in the real estate world!
"From A–Z (or B–R), David covers just what you'll need to execute like a master and build wealth like the pros." —David Osborn, New York Times bestselling author
For years, investors have built wealth through real estate the hard way: slowly saving money and sacrificing their current happiness for a future reward. While this method produces results in the long run, what if there's a better, more efficient way that works in years instead of decades?
Buy, Rehab, Rent, Refinance, Repeat is the five-part BRRRR real estate investing strategy that makes financial freedom more attainable than ever: You buy a property under market value, add value with renovations, rent it out to tenants, complete a cash-out refinance, then use that money to do it all over again. In this book, author and investor David Greene shares the exact systems he used to scale his real estate business from buying two houses per year to buying two houses per month using BRRRR.
This easy-to-follow plan will grow your wealth quickly without letting a lack of cash get in the way of pulling it off. With the BRRRR method, you'll create wealth with real estate investment properties and BRRRR your way to financial independence!
Inside, you'll discover:
A solid plan for getting started, even with limited capital
How to identify target properties locally and all over the country
Negotiation tactics for making offers that get accepted
How to recover 100% (or more) of your money in a deal
Unique ways to increase a property's value (and your own net worth)
The key to identifying emerging markets destined for huge growth
How to recruit top talent to work on your deals (so they build wealth for you!)
And so much more!
"Greene is an authoritative guide, laying out his plan in well-organized, easy-to-read prose filled with specifics that readers will appreciate."
—BlueInk Review
"Buy, Rehab, Rent, Refinance, Repeat is a thorough how-to real estate investment book and a solid, understandable overview of a methodology that could supercharge investors' incomes."
—
Foreword
Clarion Reviews
David Greene is a real estate investor and agent with more than ten years of experience. He has bought, renovated, and managed more than 35 buy-and-hold rental properties, owns shares in three large multifamily apartment complexes, and is a top-producing real estate agent on the Keller Williams East County team. A nationally recognized authority on real estate investing, David is the co-host of the BiggerPockets Podcast and has been featured on CNN, Forbes, and HGTV. He is the author of three bestselling books that have sold more than 350,000 copies combined-Long-Distance Real Estate Investing, Buy, Rehab, Rent, Refinance, Repeat (BRRRR), and SOLD: Every Real Estate Agent's Guide. David loves basketball, Batman, being an uncle, and helping people achieve total financial independence through real estate. He currently lives in Northern California.