Foolproof Fish: Modern Recipes for Everyone, Everywhere
Spiral-Bound | March 26, 2020
America's Test Kitchen (Edited by)
Rebinding by Spiralverse™
★★★★☆+ from 101 to 500 ratings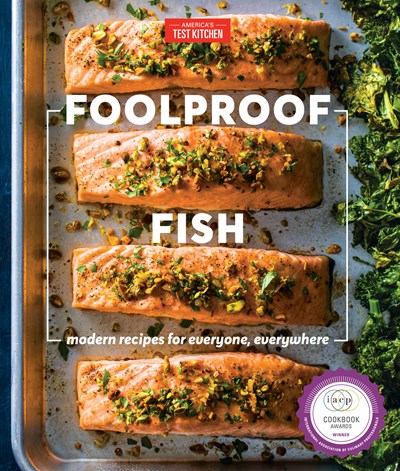 2021 IACP Award Winner in the Single Subject Category
Dive into seafood with confidence and get inspired by 198 recipes for multiple kinds of fish--featuring fresh, modern flavors and plenty of fish facts

For many home cooks, preparing seafood is a bit of mystery. But I'm going to let you in on a little secret: Cooking great-tasting seafood is easy and anyone, anywhere can do it. (That means you!) Our newest cookbook provides you with everything you need to create satisfying and healthy seafood meals at home.

We explore how to buy quality fish and dive deep into all the varieties of fish available, from light and flaky to rich and meaty. You'll get answers to all of your seafood related questions and practical tips and tricks for handling fish. But the recipes are where things get really exciting. From sumptuous appetizers and savory soups and stews to easy weeknight dinners and company-worthy fare (and a lot more), you'll learn just how rewarding it is to prepare seafood at home. We've also included substitution information for each recipe. So if you can't find a certain kind of fish or if you don't like the type used in the recipe, you can use any of the listed substitutions and still achieve great results. Clever, right?

Having delicious, healthy (and easy) recipes to cook at home is more important than ever.

We hope you'll give seafood cookery a chance. You won't regret it.
Selected as the Cookbook Award Winner of 2021 in the Single Subject category -- INTERNATIONAL ASSOCIATION OF CULINARY PROFESSIONALS (IACP)

"The book's depth, breadth, and practicality makes it a must-have for seafood lovers." -- Publisher's Weekly
America's Test Kitchen is well-known for its top-rated television shows with more than 4 million weekly public television viewers, bestselling cookbooks, magazines, websites, and cooking school. The highly reputable and recognizable brands of America's Test Kitchen, Cook's Illustrated, and Cook's Country are the work of over 60 passionate chefs based in Boston, Massachusetts, who put ingredients, cookware, equipment, and recipes through objective, rigorous testing to identify the very best. Discover, learn, and expand your cooking repertoire with Julia Collin Davison, Bridget Lancaster, Jack Bishop, Dan Souza, Lisa McManus, Tucker Shaw, Bryan Roof, and our fabulous team of test cooks!