Food Network Magazine The Big, Fun Kids Cookbook: 150+ Recipes for Young Chefs
Spiral-Bound | April 7, 2020
Food Network Magazine (Edited by), Maile Carpenter (Foreword by)
Rebinding by Spiralverse™
★★★★☆+ from 101 to 500 ratings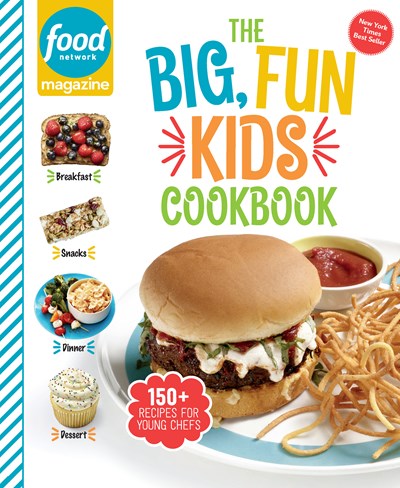 NEW YORK TIMES BESTSELLER!

It's the ultimate kids cookbook from America's #1 food magazine: 150+ fun, easy recipes for young cooks, plus bonus games and food trivia!

"This accessible and visually stunning cookbook will delight and inspire home cooks of all ages and get families cooking together." —School Library Journal

"This is an exceptional introduction to cooking that children and even novice adult home cooks will enjoy." —Publishers Weekly


The Big, Fun Kids Cookbook from Food Network Magazine gives young food lovers everything they need to succeed in the kitchen. Each recipe is totally foolproof and easy to follow, with color photos and tips to help beginners get excited about cooking. The book includes recipes for breakfast, lunch, dinner, snacks and dessert—all from the trusted chefs in Food Network's test kitchen.

Inside you'll find:

• 150+ easy recipes
• Cooking tips from the pros
• Color photos with every recipe
• Special fake-out cakes (one looks like a bowl of mac and cheese!)
• Choose-your-own-adventure recipes (like design-your-own Stuffed French Toast)
• Kid crowd-pleasers like Peanut Butter & Jelly Muffins, Ham & Cheese Waffle Sandwiches, Pepperoni Chicken Fingers, Raspberry Applesauce and more!
• Fun food games and quizzes (like "What's Your Hot Dog IQ?")
• Bonus coloring book pages

Fun fact: The book jacket is a removable cooking cheat sheet full of great tips, tricks and substitutions!
"We love cooking with Food Network Magazine! It's always a party with them, and this book is no exception! So many fun recipes in here, especially the PB&J cake."
—Madeline & Anna Zakarian, Geoffrey Zakarian's daughters

"I love how committed Food Network is to teaching both adults and children how to cook!"
—Geoffrey Zakarian, Food Network Star, father of three

"Everybody knows I love cheeseburgers. I also love cake. Now I can have both in one bite! Best. Cake. Ever! Best. Cookbook. Ever!"
—Lorenzo Mauro, Jeff Mauro's son

"This book is so eye-poppingly colorful its hard to put down. Not only is a great resource for parents but also a great resource for today's food-centric children. The photography jumps off the page and makes you want to put down your phone, pick up a spatula, and get to cooking with your kids."
—Jeff Mauro, Food Network Star

"We kids have our own special way of seeing food. We are passionate about ingredients. We are learning about food and cooking from our parents and other family members. We have traditions and heritage to consider. That's what makes us individuals. This book allows a kid like me to take her own experiences and explore a day of meals in a new way! I also love that the book is like a test, too. I want to know what I don't know about ice cream trucks! It's like a cookbook and a game at the same time."
—Ava Clark, Alex Guarnaschelli's daughter

"My daughter Ava is so excited about this cookbook. It's specifically engineered to celebrate kids, their discovery of gastronomy through familiar comfort food dishes, and learning to cook food for themselves!"
—Alex Guarnaschelli, Food Network Star

"This book is chock-full of whimsical, fantastical (and delicious!) recipes that will actually get your little one running to join you in the kitchen. At my house, we pored over every mouth-watering picture, marking our favorites with sticky notes—and I realized we tagged more pages than not!"
—Jane Francisco, Editor in Chief, Good Housekeeping

"Our foodie family definitely lives to eat! And having interesting recipes that are straightforward and easily involve everyone is a huge help! From the Almond Butter-Berry Toast to the Chinese Meatball Sliders, we love the original twists to traditional dishes in The Big, Fun, Kids Cookbook!"
—Vern Yip, Celebrity Designer and HGTV Star

"The Food Network has launched countless young people on the path to becoming chefs. In this covered, spiral-bound cookbook (making countertop use easier), the editors of the Food Network Magazine give all children an opportunity to explore their inner foodie. A visual index kicks off the book, which is then divided into color-coded sections on breakfast, lunch, snacks, dinner, dessert, and fake-out cakes. The 150-plus recipes are simple to follow, with many basic ingredients, and several allow variations for users to experiment according to their personal taste.

While the dishes comprise many kid-friendly favorites, like waffles, pizza, and cupcakes, there are also fun, healthy alternatives, such as melon "fries," spaghetti squash, and "ants on a log remix." Large color photos of the finished dishes; helpful tips; "Did You Know?" facts (e.g., waffles inspired Nike's first running shoe); and food quizzes keep the text even more engaging. With recipes for cakes that look like cheeseburgers, mac and cheese, giant s'mores, and more, the final section may be reason enough to purchase this delightful cookbook."
— Booklist, starred review

"This thoroughly enjoyable cookbook from the editors of Food Network Magazine presents over 150 recipes "that any kid can make." There are some recipes that young home cooks (ages 8–12) can prepare with minimal adult supervision, such as one of the six variations of Ants on a Log, as well as others that will require help from an adult, such as the giant s'mores cake, which requires the use of a kitchen torch.

In addition to several kids' favorites like mac and cheese, and creative riffs such as French toast muffins, there are several "design your own recipe" sections that encourage readers to create their own variations of basic staples, such as granola bars. The recipes are simple to follow with easy-to-find ingredients and plenty of valuable tips ("Split English muffins in half with a fork... so you'll end up with good nooks and crannies").

Alongside the recipes are dozens of facts ("There are 10,000 varieties of grapes in the world," they write next to a recipe for candied grapes), food trivia quizzes, and coloring pages that are bound to spark enthusiasm.

This is an exceptional introduction to cooking that children and even novice adult home cooks will enjoy."
—Publishers Weekly

"This accessible and visually stunning cookbook will delight and inspire home cooks of all ages and get families cooking together."
—School Library Journal, starred review

"For a great children's cookbook, Food Network Magazine's recently-released Big, Fun Kids Cookbook is filled with more than 150 fun recipes for kids, including their Taco Salad Cups and Edible Cookie Dough recipes."
–Atlanta Journal-Constitution

"Food Network Magazine has been inspiring mama chefs for years (and the actual TV channel for even longer) and they have taken the dive into children's cookbooks. The Big, Fun, Kids Cookbook is really just that: 150+ recipes designed specifically for kids whether they aspire to be the Food Network Kids Star or just want to make a super cool cheeseburger cake (yup, that is really a recipe) to impress their friends. Mamas might find some surprising inspiration in this cookbook, too, for easy family dinners. We love that there is even a coloring book section for when we need them out of the kitchen but still want to encourage their food exploration."
—Anna Baboval, writer for Scary Mommy

"...it would be a big mistake to think that The Big, Fun Kids Cookbook from Food Network Magazine simply duplicates material that others have presented in the past – because this brightly colored, spiral-bound, well-thought-out book adds some new wrinkles to the young-people's-cookbook genre and irons out some of the old ones. The basics of what to do and how to do it are all in The Big, Fun Kids Cookbook, and the attractive layout, bonus features (even a six-page coloring section at the very end), mixture of ordinary and unusual recipes, and factual tidbits make this offering a winner on all levels."
—Mark J. Estren, Ph.D, president of TransCentury Communications and Infodad.com
Food Network Magazine is the #1 selling magazine at newsstands in America across all magazines. It has 13.55 million readers every month—more than for any other food or lifestyle magazine. The magazine is every food lover's essential handbook: a monthly supply of expert advice, inspiring ideas and must-try recipes. The magazine's bright, lively design captures the energy of Food Network, while story after story reminds readers that food is fun, and that anyone—of any age—can cook like a star.


Maile Carpenter is the founding editor in chief of Food Network Magazine, the best-selling monthly magazine in the U.S., and The Pioneer Woman Magazine, a new magazine launched in 2017 with cookbook author, Food Network star and social-media phenom Ree Drummond. Maile is an expert in kids cooking—she has two young daughters who love to experiment in the kitchen and hold family cooking competitions!