Smolder
Spiral-Bound | March 21, 2023
Laurell K. Hamilton
Rebinding by Spiralverse™
★★★☆☆+ from 1,001 to 10,000 ratings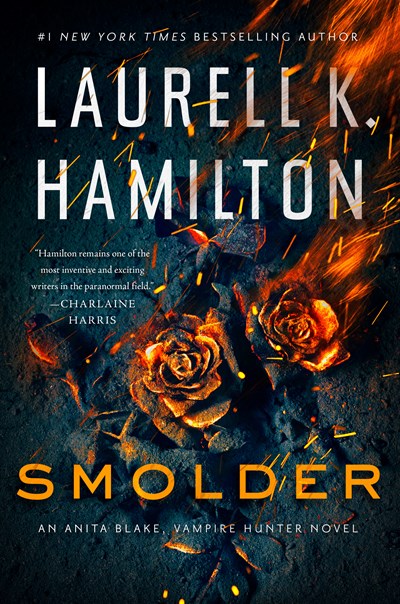 Vampire hunter Anita Blake is no stranger to killing monsters. It's part of her job as a Preternatural U.S. Marshal, after all. But even her experience isn't enough to stop something that is bent on destroying everything—and everyone—she loves.

Anita Blake is engaged to Jean-Claude, the new vampire king of America. Humans think she's gone over to the side of the monsters. The vampires fear that their new king has fallen under the spell of the most powerful necromancer in a thousand years.

In the midst of wedding preparations—including getting Edward, aka U.S. Marshal Ted Forrester, fitted as best man—Anita gets a call that the local police need her expertise at a brutal murder scene linked to a nationwide slaughter of vampires and humans, dubbed the Sunshine Murders.

But there is more than just a murderer to catch: an ancient evil has arrived in St. Louis to challenge Jean-Claude for his crown, his life, Anita, and all they hold dear. Even with Jean-Claude's new powers as king and Anita's necromancy, it isn't enough; they must embrace their triumvirate or allow primeval darkness to spread across the country, possessing first the vampires and then the humans. Evil will triumph unless Jean-Claude and Anita can prove that love conquers all.

Series Overview: The popular, long-running series featuring vampire hunter, zombie raiser, and U.S. Marshal Anita Blake.
"Hamilton has written another great story in this series. Fans that have been invested in this series will not be disappointed."—Red Carpet Crash
Laurell K. Hamilton is a full-time writer and the #1 New York Times bestselling author of the Anita Blake, Vampire Hunter series; Zaniel Havelock series; and the Merry Gentry series. She lives in a suburb of St. Louis with her family.

Author Residence: Missouri