A Swim in a Pond in the Rain: In Which Four Russians Give a Master Class on Writing, Reading, and Life
Spiral-Bound | April 12, 2022
George Saunders
Rebinding by Spiralverse™
★★★★☆+ from 10,001 to 50,000 ratings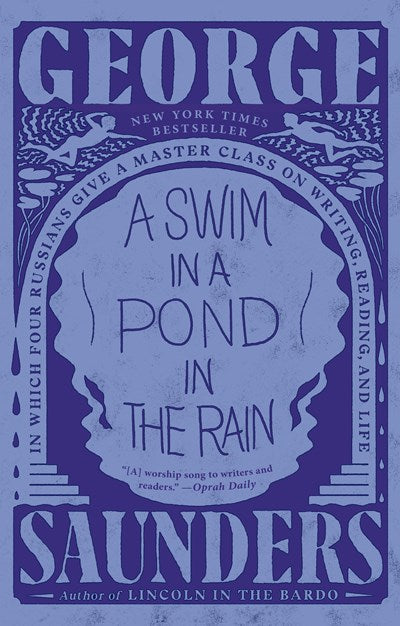 NEW YORK TIMES BESTSELLER • From the Booker Prize–winning author of Lincoln in the Bardo and Tenth of December comes a literary master class on what makes great stories work and what they can tell us about ourselves—and our world today.

LONGLISTED FOR THE PEN/DIAMONSTEIN-SPIELVOGEL AWARD • ONE OF THE BEST BOOKS OF THE YEAR: The Washington Post, NPR, Time, San Francisco Chronicle, Esquire, Milwaukee Journal Sentinel, Town & Country, The Rumpus, Electric Lit, Thrillist, BookPage • "[A] worship song to writers and readers."—Oprah Daily

For the last twenty years, George Saunders has been teaching a class on the Russian short story to his MFA students at Syracuse University. In A Swim in a Pond in the Rain, he shares a version of that class with us, offering some of what he and his students have discovered together over the years. Paired with iconic short stories by Chekhov, Turgenev, Tolstoy, and Gogol, the seven essays in this book are intended for anyone interested in how fiction works and why it's more relevant than ever in these turbulent times.

In his introduction, Saunders writes, "We're going to enter seven fastidiously constructed scale models of the world, made for a specific purpose that our time maybe doesn't fully endorse but that these writers accepted implicitly as the aim of art—namely, to ask the big questions, questions like, How are we supposed to be living down here? What were we put here to accomplish? What should we value? What is truth, anyway, and how might we recognize it?" He approaches the stories technically yet accessibly, and through them explains how narrative functions; why we stay immersed in a story and why we resist it; and the bedrock virtues a writer must foster. The process of writing, Saunders reminds us, is a technical craft, but also a way of training oneself to see the world with new openness and curiosity.

A Swim in a Pond in the Rain is a deep exploration not just of how great writing works but of how the mind itself works while reading, and of how the reading and writing of stories make genuine connection possible.
"Saunders is a gentle giant in American letters whose fiction frequently champions the downtrodden and satirizes a society rife with economic inequality. . . . [A Swim in a Pond in the Rain is] an analysis of classic Russian fiction that doubles as an introductory seminar on the mechanics of short stories—namely, how do they work and why? . . . Why does fiction matter now? The answer, Saunders finds, lies in understanding reading to be a kind of life skill—for understanding our position in the world, for arbitrating truth."—The Wall Street Journal

"This book is a delight, and it's about delight too. . . . [A Swim in a Pond in the Rain is] very different from just another 'how to' creative writing manual, or just another critical essay. . . . One of the pleasures of this book is feeling [Saunders's] own thinking move backwards and forwards, between the writer dissecting practice and the reader entering in through the spell of the words, to dwell inside the story."—The Guardian

"Saunders discusses each story's structure, energy flow, the questions it raises, and how "meaning is made," embracing both technical finesse and the mysteries at creation's core. . . . An invaluable and uniquely pleasurable master course and a generous celebration of reading, writing, and all the ways literature enriches our lives."—Booklist (starred review)

"A master of contemporary fiction joyously assesses some of the best of the nineteenth century."—Kirkus Reviews

"[A] true gift to writers and serious readers . . . With infectious enthusiasm and generosity of spirit, Saunders delves into seven stories that he calls the 'seven fastidiously constructed scale models of the world.' . . . While the genesis of A Swim in a Pond in the Rain can be found in the creative writing classroom—and writers at any level of their careers will glean priceless pearls from nearly every page—the genius of Saunders's book, and his clear intention in offering it up, is to elucidate literature for the engaged reader, deepening the reading experience. It is also a blueprint for a greater engagement with humanity."—BookPage

"Superb mix of instruction and literary criticism . . . Saunders's generous teachings—and the classics they're based on—are sure to please."—Publishers Weekly (starred review)

"The subtitle to this exhilarating and erudite work of non-fiction by the Booker Prize­winning author of Lincoln in the Bardo and Tenth of December is: "In Which Four Russians Give a Master Class on Writing, Reading, and Life." In it, one of the greatest short story writers of our time draws on his own love of Chekhov, Turgenev, Tolstoy and Gogol—and on his joy in teaching them to his MFA students at Syracuse University. The result is a worship song to writers and readers."—O: The Oprah Magazine
George Saunders is the #1 New York Times bestselling author of ten books, including Lincoln in the Bardo, which won the Man Booker Prize; Congratulations, by the way; Tenth of December, a finalist for the National Book Award; The Braindead Megaphone; and the critically acclaimed short story collections CivilWarLand in Bad Decline, Pastoralia, and In Persuasion Nation. He teaches in the creative writing program at Syracuse University.