Minimalista: Your Step-by-Step Guide to a Better Home, Wardrobe, and Life
Spiral-Bound | November 2, 2021
Shira Gill
Rebinding by Spiralverse™
★★★★☆+ from 501 to 1,000 ratings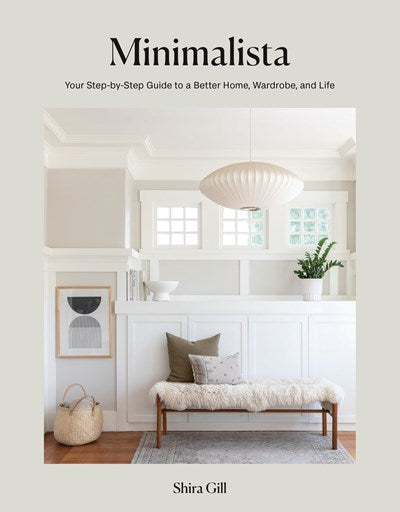 Elevate your personal style, trim your belongings, and transform your life, one room at a time, with this visionary lifestyle and home organization book from professional organizing expert, Shira Gill.

"Warm, funny, and direct, Shira builds you up while helping you edit down to the best version of yourself."—Stacy London, New York Times bestselling author of The Truth About Style

As a professional home organizer with clients ranging from students to multi-millionaires, Shira Gill observed that clutter is a universal stress trigger. Over the years she created a signature decluttering and organization process that promotes sustainability, achieves lasting results, and can be applied to anyone, regardless of their space or lifestyle. Rather than imposing strict rules and limitations, Shira redefines minimalism as having the perfect amount of everything—for you—based on your personal values and the limitations of your space.

Now, in Minimalista, Shira shares her complete toolkit for the first time, built around five key steps: Clarify, Edit, Organize, Elevate, and Maintain. Once you learn the methodology you'll dive into the hands-on work, choose-your-own-adventure style: knock out a room, or even a single drawer; style a bookshelf; donate a sweater. Shira teaches that the most important thing you can do is start, and that small victories, achieved one at a time, will snowball into massive transformation. Broken into small, bite-sized chunks, Minimalista makes it clear that if the process is fun and easy to follow, anyone can learn the principles of editing and organization.
"Shira Gill is the funniest, wisest, most entertaining writer in the organizing game. If you only buy one book this year featuring a fake word ending in -ista, make it this one."—Adam Mansbach, #1 New York Times bestselling author of Go the F**k to Sleep

"Minimalista will help you find your dream home beneath the clutter. This book is an indispensable guide for anyone who wants to pare back to what is essential and let go of the rest."—Laura Fenton, author of The Little Book of Living Small

"Minimalista is the holy grail for curating a minimal, functional, and inviting home. Shira will not shame you for owning an abundant shoe collection or mismatched mugs, rather she encourages you to find the sweet spot for what brings you comfort and joy and let go of the rest. Her approach to organizing is simple and fun, and the #15minwin exercise is a game changer for tackling those dreaded projects you keep putting off."—Lily Cameron, founder of The Wild Minimalist and author of Simply Sustainable

"Shira has a gift for simplifying the process of organizing your home. She takes what can sometimes feel like an overwhelming task and turns it into an activity you actually want to do. Her ideas are memorable and easy to follow. This book is the resource, encouragement, and inspiration you need to create a home you love today and keep you on track in the future."—Natalie Walton, international bestselling author of This is Home

"I identified with so many of the important lessons that Shira teaches in Minimalista. Now I'll know what book to recommend when people ask me to help them on their journey toward minimalism!"—Garance Doré, New York Times bestselling author of Love Style Life

"There's nothing more demoralizing than feeling like you have every­thing in the world, and yet want none of it. Shira's approach will help you reframe what you buy and then show you how to live alongside everything in your home in a way that is honorable, liberating, and, ironically, maximizing. It is as much a system of organization as a method for clarity."—Elise Loehnen, author and former chief content officer at Goop

"From providing a user-friendly tool kit on how to curate and maintain a minimalist lifestyle to giving practical guidance for simplifying our living spaces, Minimalista offers a fun, approachable framework for functional minimalism—one that we all need."—Christine Platt, author of The Afrominimalist's Guide to Living with Less
Shira Gill is a home organizing expert, author, speaker, and founder of the "fifteen-minute win" productivity hack. Her online makeover programs, popular lifestyle blog, and Instagram feed have inspired a global audience to get rid of the excess in their lives and focus on what really matters. Shira's work and home have been featured in Apartment Therapy, Domino, Forbes, Goop, Harper's Bazaar, HGTV, InStyle, Parents, Real Simple, Rue, and Remodelista. She lives in the San Francisco Bay Area with her husband, two daughters, and their Australian shepherd, who sheds all over their very organized home.