2034: A Novel of the Next World War
Spiral-Bound | March 9, 2021
Elliot Ackerman, Jim Stavridis
Rebinding by Spiralverse™
★★★☆☆+ from 10,001 to 50,000 ratings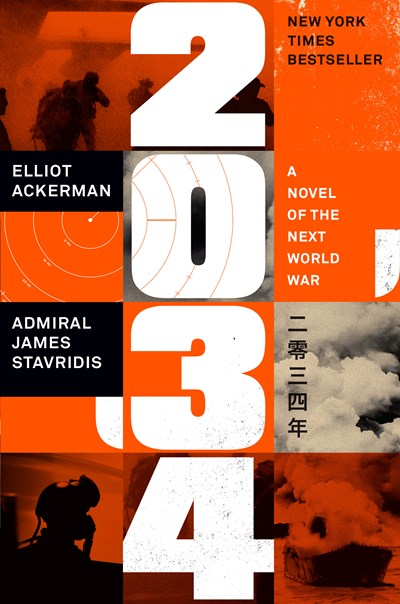 An instant New York Times Bestseller!

"Consider this another vaccine against disaster. Fortunately, this dose won't cause a temporary fever—and it happens to be a rippingly good read." —Wired

"This crisply written and well-paced book reads like an all-caps warning for a world shackled to the machines we carry in our pockets and place on our laps . . ." —The Washington Post

From two former military officers and award-winning authors, a chillingly authentic geopolitical thriller that imagines a naval clash between the US and China in the South China Sea in 2034—and the path from there to a nightmarish global conflagration.

On March 12, 2034, US Navy Commodore Sarah Hunt is on the bridge of her flagship, the guided missile destroyer USS John Paul Jones, conducting a routine freedom of navigation patrol in the South China Sea when her ship detects an unflagged trawler in clear distress, smoke billowing from its bridge. On that same day, US Marine aviator Major Chris "Wedge" Mitchell is flying an F35E Lightning over the Strait of Hormuz, testing a new stealth technology as he flirts with Iranian airspace. By the end of that day, Wedge will be an Iranian prisoner, and Sarah Hunt's destroyer will lie at the bottom of the sea, sunk by the Chinese Navy. Iran and China have clearly coordinated their moves, which involve the use of powerful new forms of cyber weaponry that render US ships and planes defenseless. In a single day, America's faith in its military's strategic pre-eminence is in tatters. A new, terrifying era is at hand.

So begins a disturbingly plausible work of speculative fiction, co-authored by an award-winning novelist and decorated Marine veteran and the former commander of NATO, a legendary admiral who has spent much of his career strategically outmaneuvering America's most tenacious adversaries. Written with a powerful blend of geopolitical sophistication and human empathy, 2034 takes us inside the minds of a global cast of characters--Americans, Chinese, Iranians, Russians, Indians--as a series of arrogant miscalculations on all sides leads the world into an intensifying international storm. In the end, China and the United States will have paid a staggering cost, one that forever alters the global balance of power.

Everything in 2034 is an imaginative extrapolation from present-day facts on the ground combined with the authors' years working at the highest and most classified levels of national security. Sometimes it takes a brilliant work of fiction to illuminate the most dire of warnings: 2034 is all too close at hand, and this cautionary tale presents the reader a dark yet possible future that we must do all we can to avoid.
"It is hard to write in great detail about what ensues in this novel without giving away the drama of its denouement. Suffice it to say that there is conflict and catastrophe on a large scale, and it unfolds, as major conflicts tend to, with surprising twists and turns . . . The strengths of the novel are anything but incidental to the background of one of its authors, Adm. Stavridis, a former destroyer and carrier strike group commander who retired from the Navy in 2013 as NATO Supreme Allied Commander in Europe. . . . Adm. Stavridis not only understands how naval fleets work; he has clearly given a great deal of thought to America's biggest strategic risks, and at the top of the list is war with China, which, as this book seems designed to point out, could occur quite by accident and at almost any time . .. One of the messages of this book is that war is utterly unpredictable and that opportunist adversaries of the U.S. are likely to play important roles in any widening confrontation . . . 2034 is nonetheless full of warnings. Foremost is that war with China would be folly, with no foreseeable outcome and disaster for all. This is not a pessimistic book about America's potential, but the picture of the world it paints before the central conflict will be a difficult one for many to accept, albeit one well supported by facts." —Wall Street Journal

"An unnerving and fascinating tale of a future . . . The book serves as a cautionary tale to our leaders and national security officials, while also speaking to a modern truth about arrogance and our lack of strategic foresight . . . The novel is an enjoyable and swiftly paced but important read." —The Hill

"This crisply written and well-paced book reads like an all-caps warning for a world shackled to the machines we carry in our pockets and place on our laps, while only vaguely understanding how the information stored in and shared by those devices can be exploited. . . . In 2034, it's as if Ackerman and Stavridis want to grab us by our lapels, give us a slap or two, and scream: Pay attention! George Orwell's dystopian masterpiece, Nineteen Eighty-four: A Novel was published 35 years before 1984. Ackerman's and Stavridis's book takes place in the not-so-distant future when today's high school military recruits will just be turning 30." —The Washington Post

"Stavridis and Ackerman have combined their talents—the former's detailed operational knowledge of military strategy and tactics and the latter's narrative skills—to come up with a realistic, detailed and highly readable account of how the next world war might begin . . . 2034 is thought-provoking reading for military and diplomatic professionals dealing with China, and for the generalist concerned with China's rise. The scenario outlined by Stavridis and Ackerman lends credence to recent calls for the US to strengthen its military capabilities in the Indo-Pacific. It's also a riveting read." —The Strategist (Australia)

"If you're looking for a compelling beach read this summer, I recommend the novel 2034." —Thomas L. Friedman, The New York Times

"Utterly engrossing . . . [2034] is incredibly well-written, deeply thought-provoking, and it makes for uncomfortable and sober reading—in the best of ways . . . .. . . There is also an unexpected emotional rawness to the characters. This, in hindsight, should not come as a surprise. Elliot Ackerman is one of the finest writers to come out of this generation of military veterans and officers . . . The pairing of Mr. Ackerman and Adm. Stavridis is inspired. Both have military backgrounds as officers, both are accomplished writers in their own right, and both complement each other exceptionally well and have produced a fantastic work of fiction. . . .This is a book that sets the pulse as well as the mind racing but doesn't let the reader off with a cheap or easy thrill. It is sobering and chilling." —Joshua Huminski, Diplomatic Courier

"Consider this another vaccine against disaster. Fortunately, this dose won't cause a temporary fever—and it happens to be a rippingly good read. Turns out that even cautionary tales can be exciting, when the future we're most excited about is the one where they never come true." —Wired

"A frightening look at how a major-power showdown might race out of control. . . . This compelling thriller should be required reading for our national leaders and translated into Mandarin." —Kirkus (starred)

"Those seeking a realistic look at how a future world war might play out will be rewarded." —Publishers Weekly

"Chilling yet compulsively readable work of speculative fiction . . . Ackerman and Stavridis have created a brilliantly executed geopolitical tale that is impossible to put down and that serves as a dire, all-too-plausible warning that recent events could have catastrophic consequences."—Booklist, starred review

"War with China is the most dangerous scenario facing us and the world. Absent a strategic method to manage our differences, Jim Stavridis and Elliot Ackerman's chilling novel presents a realistic series of miscalculations leading to the worst consequences. A sobering, cautionary tale for our time." —Jim Mattis, General, U.S. Marines (Ret.) and 26th Secretary of Defense

"A brilliant thriller! Masterfully plotted and elegantly written, 2034 is a literary tour-de-force. Let's just hope none of it comes true." —Brad Thor, #1 New York Times bestselling author of Near Dark

"A real page-turner, 2034 is a novel about a conflict we hope never happens. Drawing on their deep operational and diplomatic backgrounds, Admiral Stavridis and Elliot Ackerman have conjured a nightmare we desperately need to avoid. The novel is a cautionary tale for our times, and a reminder how quickly events can spin out of control—even before 2034." —Robert M. Gates, Secretary of Defense 2006-2011

"I could not stop reading 2034. With sharply drawn, vibrant characters caught in an all too plausible future conflict, the novel left me fascinated, moved, thrilled and, ultimately, haunted." —Phil Klay, author of Missionaries

"2034 is an exciting, interesting, and informative novel about a hypothetical future war with China that is largely determined by actual decisions already made. It describes in detail how a single technological leap forward by an adversary, in this case China, could destroy our ability to communicate, resulting in a blind, hapless military. It also demonstrates how today's military policies will leave a future United States without adequate resources to wage a high intensity conventional war and be forced to resort to a first strike nuclear response and its horrific consequences. Anyone who is concerned about where today's military technology decisions are taking us should read this book." —Karl Marlantes, author of Matterhorn and Deep River
Admiral Jim Stavridis, USN (Ret.) spent more than thirty years in the US Navy, rising to the rank of four-star admiral. He was Supreme Allied Commander at NATO and previously commanded US Southern Command, overseeing military operations through Latin America. At sea, he commanded a Navy destroyer, a destroyer squadron, and an aircraft carrier battle group in combat. He holds a PhD from the Fletcher School of Law and Diplomacy at Tufts University, where he recently served five years as dean. He received 50 medals in the course of his military career, including 28 from foreign nations. He has published nine previous books, including Sea Power: The History and Geopolitics of the World's Oceans and Sailing True North: Ten Admirals and the Voyage of Character, and is Chief International Analyst for NBC News and a contributing editor of TIME Magazine. He is currently vice chairman, global affairs of the Carlyle Group and chairman of the board of the Rockefeller Foundation.

Elliot Ackerman is the author of The Fifth Act, Places and Names, 2034, Red Dress In Black and White, Waiting for Eden, Dark at the Crossing, and Green on Blue. His books have been nominated for the National Book Award, the Andrew Carnegie Medal in both fiction and non-fiction, and the Dayton Literary Peace Prize among others. His writing often appears in Esquire, The New Yorker, and The New York Times, and his stories have been included in The Best American Short Stories and The Best American Travel Writing. He is both a former White House Fellow and Marine, and served five tours of duty in Iraq and Afghanistan, where he received the Silver Star, the Bronze Star for Valor, and the Purple Heart. He divides his time between New York City and Washington, D.C.